Commune Around a Fire Pit Like Our Ancestors Did
Custom Fire Pits in Frontenac, MO. Humankind has been finding camaraderie around fire since the dawn of history. While that will likely never go away, in today's society a custom fire pit can help accentuate your outdoor space. Poynter Landscape Architecture & Construction knows how to see you home and yard as one cohesive unit, listens to you, and works with you to come up with the perfect custom fire pit for your needs in Frontenac, MO. Whether you want a gas or wood-burning, a custom fire pit that feels like a campfire, or one ideal for hosting dinners and cocktails, call Poynter Landscaping today at 636-256-2600 or tell us about your project online.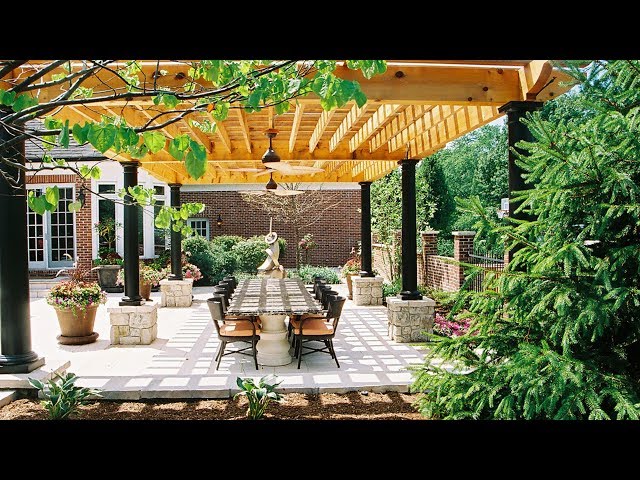 Types of Fire Pits in Frontenac, MO
"Fire Pit" is a general term that encompasses everything from holes in the ground to elaborate stone structures. As opposed to an outdoor fireplace, people can easily gather and move around a fire pit. Which type of fire pit you want will largely depend on why you want a fire pit in the first place.
Fire Bowls
Fire bowls come in a huge range of sizes. They're ideal for people in Frontenac, MO who look forward to sitting around the fire with friends, doing a crossword, or having an evening drink with their partner while stargazing. Because they're they're typically not very tall, they're good for keeping people sitting in chairs warm. You can also choose to elevate the fire bowl to help the heat spread more.
Fire Tables
Fire tables can be made in a variety of shapes, from circles, to rectangles, to octagons. They have a place around the fire where drinks and food items can site, or where you can rest your feet. These are ideal for having people over for dinner or socializing. They often feature best as the centerpiece among outdoor couches.
Tabletop Fire Pits
These are petite and portable and are intended to be placed on patio tables, decks, or small tables around a pool. They're great for keeping hands warm while you eat and keeping the mosquitoes away.
Fire Rings
These are the fire pits most like a traditional campfire. These metal rings rest directly on the ground and can be put way when not in use. These are purely wood-burning fire pits, and rings help keep the embers and wood from hurting other people or property.
Pagodas
Inspired by ancient Asian design concepts, pagodas are vertically rectangular fire pits with a chimney for ventilation. They essentially look like large lanterns, and heat can be felt by someone on any side of it.
Fire Columns
These fire pits are taller and thinner. Some have a small bowl on top of them, while some have fire coming directly from the square top. These are great for smaller decks in Frontenac, MO as they provide warmth without taking up too much space. They typically have impressive designs.
4 Questions to Ask Yourself Before You Get a Custom Fire Pit in Frontenac, MO
Poynter designs custom fire pits unique to each job we do. We'll be able to give you the fire pit fits your tastes and what you want it for. We've put together four important questions to ask before buying a fire pit:
Should I get a permanent installation, or a portable one? A permanent fixture can add an amazing accent to the rest of your outdoor space. Or, you can choose a portable option that can be stored to create more space when you're not using it.
Do I want a gas or wood-burning fire pit? Gas fire pits can be more convenient as a fire can get started in seconds, and they are much easier to clean. Poynter has a thorough understanding of how to properly install gas fixtures and lines in order to give you a realistic, gas-powered flame.


Others may prefer the old-school wood-burning approach. It's hard to beat the sound of crackling wood on a cold night, and you'll be able to put your Frontenac, MO friends and family in awe with your fire-making skills.

What area of my yard do I want the fire pit in? If you decide to go with a permanent permanent, local ordinances or your homeowners' association may have rules about the proximity of the fire pit to neighbor's property in Frontenac, MO or to trees. You also need to think about how you want it to fit with the rest of your outdoor space. Do you want it off away in the yard as a quiet, mini-getaway? As the centerpiece of your patio or terrace? Or in your pergola or pavilion so you keep warm when it's raining? Or by the swimming pool so you can stay warm between dips in the pool.
What type of fire pit do I want? There are several types of fire pits. Do you want a standard, low-sitting circle to keep you warm as you sit around it? A taller, fire column to keep guests warm during cocktails and mingling? Or a table-height fire pit, that you can eat over and then open up after dessert?


Also, what do you want the aesthetics of your fire pit to be? Do you want a gorgeously designed stone custom fire pit? Or something more bohemian?
Our team has become a household name in Frontenac, MO because we know how to design and install custom fire pits that work for you in terms of both aesthetics and function. If you'd like to know more about what we can do for your outdoor space, get in touch with us today at 636-256-2600. You can read about what we've done for other Frontenac, MO residents with our client testimonials, or check out our gallery and project spotlight to see it for yourself.
Other services we offer in Frontenac, MO include:
Why Choose Poyner Landscaping for Your Custom Fire Pit in Frontenac, MO
Poynter Landscaping is made up of an innovative and energetic group of designers, architects and horticulturists with extensive experience and an outstanding reputation. We give both you and your property the special attention you deserve to give you the results you want. We are well known for our friendly approach, both to our clients and the environment. We delight in helping homeowners with a small project or enhancement, or use our hardscape design and gardening and landscaping services to completely make over your outdoor living space. Call Poynter today at 636-256-2600 or contact us online for your ideal custom fire pit.
---