Turning Your Dreams Into Reality
Landscape design near me in Maryland Heights, MO. If you want to transform your backyard into a charming and functional landscape, you may have just got done typing, "Where can I find landscape design near me?" Poynter Landscape has helped Maryland Heights, MO homeowners get the outdoor living spaces they've always wanted for more than two and a half decades. Our experienced team of designers and horticulturists are creative and outside-the-box thinkers. We dare you to imagine the possibilities for your yard, and then do what we do best to turn your preferences into your vision. For landscape design "near me" in Maryland Heights, MO, call Poynter today at 636-256-2600 or tell us about your project through our website.
Benefits of Hiring a Professional Maryland Heights, MO Landscape Designer
While many homeowners take pleasure in working on their yard, there are myriad benefits to working with a professional Maryland Heights, MO landscape designer. The following are just a few reasons to consider hiring a professional in Maryland Heights, MO:
Design prowess — Landscape designers have the training and experience to design inviting, practical outdoor spaces that bridge your needs with what you have in mind.
Property evaluation — Professional landscapers can evaluate your property and figure out how to best take advantage of the space, factoring in things such as sun exposure, what the soil is like or the best soil to use, and drainage. Maryland Heights, MO homeowners may not be familiar with types of irrigation systems or drainage solutions their yard may require.
Save time and money — A professional landscape designer can help you create a practical budget for your landscaping and identify ways to make the most of your investment. A professional landscape designer can help you avoid costly mistakes and wasted time. They have the expertise to plan and design a landscape that meets your needs and budget.
Project management — Permits, working with a homeowners' association, and construction can be a nuisance. A professional designer can handle all that for you. They can manage the entire process, from design to installation, and make sure that everything is done correctly and on time.
Enhance curb appeal — A well-designed landscape can make your home worth a lot more. A professional landscape designer can help you create a landscape that other people will wish were theirs. They can help you pick plants, materials, and features that will enhance your property's curb appeal.
While many Maryland Heights, MO property owners rightly think of themselves as "green thumbs," whenever you're redesigning your entire outdoor space, the help of a professional is a must.
How to Choose the Best Local Maryland Heights, MO Landscape Designer Near You
Now that you know the benefits of contracting a professional Maryland Heights, MO landscape designer, the next step is to find the right designer for your project. Here are some things to consider:
Ask around — Ask friends, family members, and neighbors for recommendations of landscape designers they've worked with in the past.
Check online reviews — Websites like Houzz, Angi, and Yelp can provide valuable insights into the experiences other homeowners have had with local designers.
Attend local home and garden shows — These shows are a perfect time to talk to local designers, see the work they've done in the past, and ask questions.
Consider their reputation — Look for a landscape designer that has earned awards for their landscaping and has a stellar reputation in their community.
Review their previous work — If a landscaper designer does good work, they should be proud to display it online. Look at their previous projects in Maryland Heights, MO and see if they're a good fit for what you want.
Poynter Landscape has a Five-Star rating on Google and other websites for our exceptional craftsmanship and customer service. We've earned 8 national PLANET Environmental Improvement and Design awards, and we were the Readers' Pick for "Best Landscape Designer" in St. Louis AT HOME Magazine.
You can read our client testimonials here, or take a look at our gallery and previous projects.
---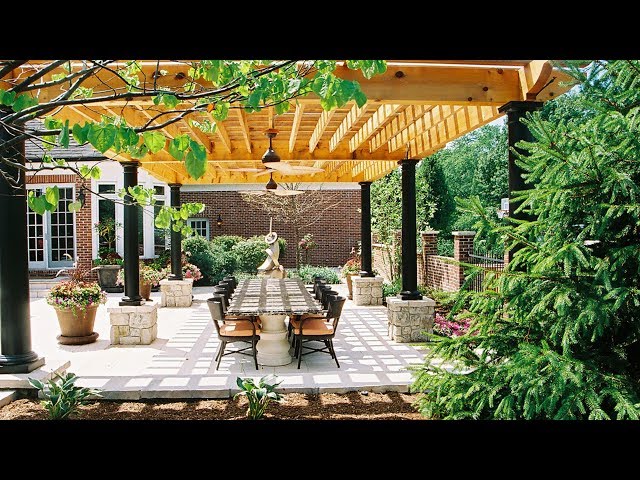 ---
Principles of Landscape Design in Maryland Heights, MO
Landscape design requires the optimization of a variety of factors, including aesthetics, ecology, and practicality. The principles of landscape design can be broken down into several important elements, including:
Unity — Unity is the concept of creating a comprehensive design that ties together all the elements of the landscape. This includes the use of similar materials, colors, and textures throughout your outdoor space.
Balance — Balance is the distribution of visual weight throughout the landscape. This can be achieved through the use of symmetrical or asymmetrical design elements, and by considering the visual weight of each element in your yard.
Proportion — Proportion refers to the relative size of elements in the landscape. This includes considering the size of each element in relation to other elements in the space, as well as the overall size of the space itself.
Rhythm — Rhythm refers to the relationship of the elements to each other and how they interact together. A professional designer can do this through the implementation of repetitive patterns, shapes, or colors.
Contrast — Contrast refers to creating striking visual differences between object. This includes the use of contrasting colors, textures, and shapes to create a dynamic landscape.
Designing for Ecology
In addition to the above principles, it's a good idea to consider the ecological impact of your design. This includes using plants that are apt for the soil, having appropriate drainage, and not interfering too much with local wildlife. By prioritizing ecology, you can have a sustainable landscape that enhances the natural beauty of the surrounding environment.
Designing for Functionality
Another vital consideration when designing a landscape is functionality. This includes considering how the space will be used, and designing it to meet those needs. For example, if you want to host large gatherings outside, you might consider how your landscape can help guide guests around your Maryland Heights, MO yard. If you'd prefer a landscape that's just for you and your family, you could think about which trees and structures offer more privacy.
Designing for Maintenance
Lastly, a well-designed landscape will be installed with maintenance in mind. This includes plantings and construction that minimize the need for ongoing maintenance. By prioritizing maintenance considerations, you can create a beautiful and practical outdoor space that doesn't cause you much hassle.
Key Elements in Maryland Heights, MO Landscape Design
Now that we've gone over key concepts in landscape design, let's go through some of the nuts and bolts of landscape design.
Plants — Plants are what many people first think of when they think of landscape design. They provide color, contrast, and rhythm, and can be used to create a variety of different effects. When picking the plants you'd like to use, it is important to consider factors such as shade and sun exposure, the type of soil, and how water will irrigate the plants and drain.
Hardscaping — Hardscaping refers to the use of non-living materials in the landscape, such as stones, composite, or wood. Hardscaping can be used to create structures that add visual interest and functionality to the space, including:
Water features — Water elements, such as in-ground pools, waterfalls, ponds, and streams, can be used to create a sense of tranquility in the landscape. They can also attract local wildlife, such as birds and butterflies.
Outdoor lighting — Lighting can be used to highlight key elements in the landscape, and can also be used to create a sense of mood. This is essential for outdoor spaces that you want to be in in the evening or at night.
Furniture and accessories — Benches, chairs, tables, and sculptures can be used to add style to the landscape. They can also add functionality if you want to use your yard for relaxation, dining, or entertaining.
Other services we offer in Maryland Heights, MO include:
Landscape Design Near Me in Maryland Heights, MO | Poynter Landscape
Whether you want a private place to sit around a fire or a large space to invite guests over, working with a professional Maryland Heights, MO landscape designer can turn your dreams into reality. At Poynter Landscape, we've earned the trust of our local Maryland Heights, MO community for our more than two and a half decades designing and installing breathtaking landscapes. Our group of designers and horticulture professionals work in collaboration on every landscape in order to provide each customer with the perfect plan to fit their needs, tastes, and the needs of the site while using style and design. For your "landscape design near me," call Poynter today at 636-256-2600 or contact us online.
---