Create a Welcoming Space for Family and Friends
Landscaping companies in Town and Country, MO. Landscaping can make a standard looking house look refined, and a stylish house look like a castle. It increases the value of your home and will make you the envy of the neighborhood. However, not all landscaping companies are created equal, and choosing the wrong company could lead to inferior results. Poynter Landscape Architecture & Design has been helping Town and Country, MO residents achieve their dream homes for more than three decades. We know how to take your vision and needs, and merge them with our expertise and out-of-the-box thinking to create stunning landscapes and yards. If you're considering a makeover for your home, or simply want some new plantings for a new season, reach out to Poynter Landscaping today at 636-256-2600 or tell us about your project online.
How to Choose the Right Town and Country, MO Landscaping Company
There are a lot of advantages to having landscaping work done for your Town and Country, MO home. It boosts curb appeal, makes your house stand out, and creates an enjoyable space for you and loved one's to spend quality time outside.
But, to achieve what you're really looking for, you need to have a clear picture of what you expect, and you need to choose a landscaping company in Town and Country, MO that can help you realize that. Below are 6 essential questions to ask yourself before hiring a landscaping company:
What type of landscaping work am I looking for? It's imperative to have a clear idea of what work you want done to your property in order to locate the landscaping company that best fits your needs. Make a list, sketch ideas, and make sure you give a prospective landscaping company a clear idea of what you envision for your property. When you share your ideas, see if you like what they say back. They should work to ensure you get what you're requesting, but also use their expertise to get you the best possible results.
Does what I want make sense with the rest of my property? A lot of issues come with landscape design. Certain plants and soil types don't work well together, plants or shrubs may not fit the surrounding foliage and architecture, or propose water features may be unbecoming. Some enhancements may lead to problems with drainage or erosion. When talking to landscaping companies, see what they think of how your ideas will fit into the surrounding property. If they propose alternatives or solutions that make sense, that may be a sign that they know what they're doing.
How many services do they provide? Some Town and Country, MO landscaping companies focus mainly on yard work, while others specialize in building structures. If you're looking for a new patio, it may not be the best idea to pick a company that specializes in horticulture. The best landscaping companies are versatile and see your property as a cohesive unit.
Are they accomplished landscape designers? Landscaping is more than just putting in the work on the ground. Landscape design involves a lot of elements, such as proper utilization of color, space, transition, and proportion, and the the intersection of functionality aesthetics. Look for a landscaping company in Town and Country, MO that can see the potential in your existing properly and come up with outside-the-box solutions to enhance it.
Do they have a portfolio of completed projects? Be sure to look what they've done for other Town and Country, MO homeowners and see if it impresses you. See if their website has a gallery or project spotlight so you can be sure their abilities and tastes match with what you want.
Do they have good reviews? Pictures of completed projects are one thing, but what do their Town and Country-area clients think about their experience. Does the landscaping company listen to ideas? Are they prompt, friendly, and considerate? How's their client communication? Read several of their client testimonials or look at their Google reviews. You'll want to feel confident that the people making over your yard will do the job right and that it'll be a pleasant client experience for you.
If you're searching for landscaping companies in Town and Country, MO, give a call to Poynter Landscape Architecture & Construction. In our 30 years of experience, we have earned an A+ Rating with the Better Business Bureau, and the praise of countless Town and Country, MO residents and St. Louis Homes & Lifestyles Magazine, and have won 8 national PLANET Environmental Improvement and Design Awards. Contact us today to discuss how we can deliver the home you always wanted.
---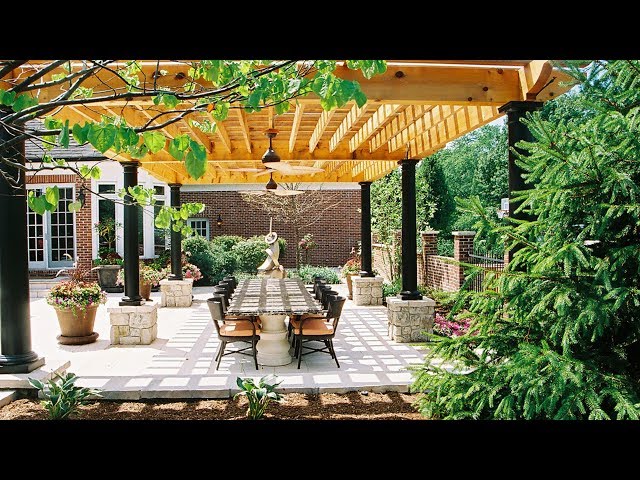 ---
Our Landscaping Services in Town and Country, MO
At Poynter, we enjoy exchanging ideas and coming up with innovative solutions to turn out Town and Country, MO clients' dreams into reality. We take collaborative approach to landscaping in order to merge what we do best with your needs. Our landscaping services include:
Residential design — Our horticulture professionals, landscape architects, and craftsman builders work as a team to design beautiful and functional properties for Town and Country, MO families. We guarantee your satisfaction because you'll know what you'll be getting before you even start.

Download Free Outdoor Living Design Guide

Digital 3D Rendering — It won't be necessary to rely on 2D renderings in order to get a feel for what your new yard may feel like. We use 3D rendering and short digital videos so you can imagine yourself moving through the space.
Outdoor lighting — Outdoor lighting not only allows you to enjoy your outdoor space after dark, but it also makes you and your family safer. Additionally, nighttime navigation is easier and architectural features of your home can be accented at night.
After care — We haven't stopped working for you once the crews have left. We'll teach you how to properly water and care for your plants, and how to plan your irrigation system.
Maintenance — Don't have time or interest to care for your new lawn yourself? Whether you're looking for seasonal shrub bed cleanup, new plantings, or other help around the yard, we offer 4 different maintenance plans so your lawn will always be professionally taken care of.
Hardscape structures — In addition to what we can do for your lawn, we can create a variety of structures to help make your home friends' and family's favorite gather spot, or just a great place to reminisce and crack jokes with those closest to you. Those include:
Already satisfied with the general layout of your lawn? Not sure you're willing to dive into a huge project yet? No worries, we also offer small projects and enhancements for Town and Country, MO homeowners who just want to shape things up between seasons or a small fire pit.
We also offer commercial design for businesses in the Town and Country, MO area that want their property to look attractive, safe, and functional.
Check out the links more to see what other services we offer in Town and Country, MO:
Call a Premier Town and Country, MO Landscaping Company Today | Poynter Landscaping
Our favorite thing to do is doing what we do best to give Town and Country, MO individuals and families the home they always wanted, whether that completely transforming your exterior spave, installing a new patio, or just getting their flower beds ready for a new season. For the premier landscaping company in Town and Country, MO, and to transform your property in ways you never expected, call Poynter Landscape Architecture & Construction today at 636-256-2600 or contact us online.
---