Illuminate Your Outdoor Spaces With Our Landscape Lighting Near You in Westwood, MO
Landscape lighting near me in Westwood, MO. The perfect blend of aesthetics, functionality, safety, and security in landscape lighting from Poynter Landscape Architecture & Construction can transform your Westwood, MO outdoor space into an absolute haven. Whether you want all eyes on your superb stonework or your fruitful foliage, or if you want to illuminate your deck, patio, or outdoor kitchen, we have the ideal landscape lighting near you.
With intuitive design from our landscape architectures, along with superior craftsmanship from our builders, we are the company to turn to in Westwood, MO for landscape lighting. Call Poynter Landscape right away at 636-256-2600 or contact us online.
Download Our Free Outdoor Living Design Guide
Poynter Landscape has a Five-Star rating on Google and other websites for our exceptional craftsmanship and customer care. We've garnered 8 national PLANET Environmental Improvement and Design awards, and we were the Readers' Pick for "Best Landscape Designer" in St. Louis AT HOME Magazine.
You can read our client testimonials, or check out our gallery and project spotlight.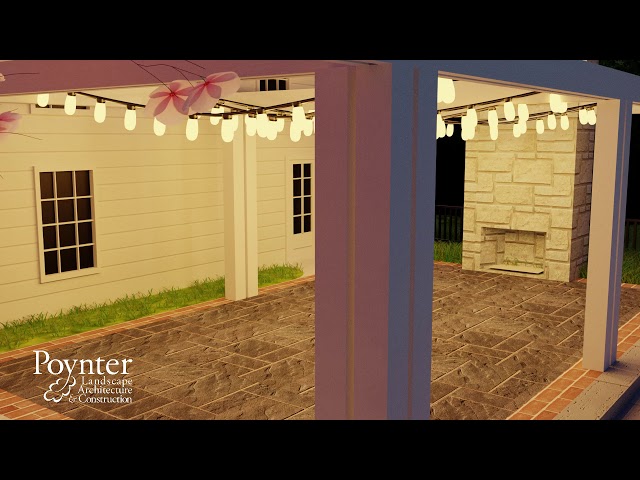 Landscape Lighting Near Me in Westwood, MO: The Poynter Landscape Difference
A great landscape lighting design turns heads throughout your Westwood, MO neighborhood. With the architectural experts at Poynter Landscape, your landscape lighting literally highlights your home – day or night, no matter the season. The best thing about working with our team is that you get to choose the options you want. Have a part of your backyard that you want to highlight? Certainly. Need to illuminate a particularly dark nook or cranny in your side yard? Absolutely, we're on it.
Our exclusive landscape lighting techniques for the Westwood, MO area include:
Hardscape lighting
Shadowing
In-ground lighting
Grazing
Wall-wash lighting
Silhouette lighting
Underwater lighting
In addition to our landscape lighting near me services in Westwood, MO, Poynter Landscape offers the following:
Landscape Lighting Near Me in Westwood, MO: What Are the Benefits?
Let Poynter Landscape get your landscape lighting to brighten every occasion, inviting friends and family into your home safely by illuminating walkways, gathering spaces, stairways, and more. Some of the benefits of landscape lighting near you in Westwood, MO include:
It Brings Improved Aesthetics

One of the vital reasons to invest in landscape lighting by Poynter Landscape is to boost your Westwood, MO property's security. Over one million burglaries occur annually in the U.S. An estimated 75 percent of these crimes are committed at night. Criminals seem to love lurking in the dark corners of your property. Let's change that with a custom landscape lighting plan. And, aside from deterring crime, the lighting keeps you, your family, and your guests safe from twisted ankles or cuts and scrapes by illuminating paths, walkways, stairways, doors, and driveways. We can even design security lighting with motion sensors that only light up when people are in range during specific times, saving you money and surprising those you intend to.

It Increases Your Westwood, MO Home's Value

No matter the style of size of your Westwood, MO home, landscape lighting increases the value. After all, potential buyers in Westwood, MO are inherently drawn to properties boasting well-lit and visually captivating outdoor spaces. In fact, according to statistics from the National Association of Home Builders' 2021 edition of What Home Buyers Really Want, almost 90 percent of potential buyers rated landscape lighting as either "essential" or "desirable," highlighting the impact on your home's value. The two most desired home features across generations of home buyers are exterior lighting and a laundry room.

It Provides Energy-Efficient Personalization at Your Fingertips

With Poynter Landscape, your landscape lighting is highly customizable – allowing you to adjust the lighting intensity, color temperature, and placement according to your preference and the mood you want to create. With the increased availability of energy-efficient LED lighting options, your landscape lighting system in Westwood, MO can be environmentally friendly and cost-effective, as LEDs use up to 90 percent less energy and last up to 25 times longer than traditional incandescent bulbs. This is especially true with technologies such as timers, motion sensors, and solar-powered fixtures.
When you're ready to discuss your landscape lighting options in Westwood, MO, call Poynter Landscape right now at 636-256-2600 or contact us online.
Landscape Lighting Near Me in Westwood, MO: Are LEDs a Necessity?
With no filament to break or burn out, LEDs can last 40,000 hours or 20 years of regular use, compared to just two years for halogen bulbs. LEDs are also extremely efficient, using 1 to 11 watts of power versus 20 to 60 watts for halogens, meaning lower installation costs due to smaller transformers and cables. Coupled with lower operating costs and reduced maintenance, LEDs present savings of up to 50 percent over halogen systems in the course of 15 years.
We recommend using LEDs wherever possible throughout your system. Some of the types of lighting packages we use in landscape lighting projects near you in Westwood, MO include:
Wash Lights – Emit soft, diffuse paths perfect for illuminating garden walls, privacy fences, and flat facades.
Bullet Lights – These versatile, compact fixtures often have bulbs that project a narrow beam – ideal for precisely lighting garden structures, swimming pools or fountains, or tree trunks.
Up/Downlights – These fixtures, often located high on trunks and branches (downlights), or buried behind bushes or ferns (uplights), can be aimed at lawns, paths, your home, or a tree's own foliage to create a moonlit effect. A long, cowl-shaped shroud around the bulb eliminates side glare. For downlights, select durable copper and brass housings with LEDs because you don't want to be climbing to replace a bulb. As always, you can call Poynter Landscape at 636-256-2600 or reach out to us for help.
Well Lights – The bulb hides in a waterproof housing buried in the ground, so you get light without noticing a fixture. These are available with either fixed or swiveling bulbs, and are ideal for illuminating the underside of a facade, wall, or staircase.
Garden Lights – Commonly consist of canopies on top of 18- to 24-inch posts that reflect light down into planting beds. Can also be used as pathway illuminators. Unlike other types of lights, their style and finish are on display.
Floodlights – Normally casts a wider beam than a bullet, 40 degrees or more, and is brighter than a wash light. We commonly use these sparingly in our landscape lighting plans near you in Westwood, MO|We use these sparingly in our Westwood, MO landscape lighting plans} to illuminate tall trees, outdoor kitchens, or wide house facades.
See some examples of our landscape lighting work in the Westwood, MO and St. Louis areas in the gallery below:
Reach Out to the Leader in Landscape Lighting Near Me in Westwood, MO | Poynter Landscape
For more than 25 years, Poynter Landscape has helped Westwood, MO homeowners design and build their landscape lighting plans to create the outdoor space of their dreams. We treat every customer and project with the personalized care and attention they deserve. Your Westwood, MO home and outdoor space deserve to be illuminated, they warrant the attention of the entire neighborhood. We can get you there.
Give Poynter Landscape a call now to discuss your landscape lighting plans in Westwood, MO at 636-256-2600 or reach out to us online.
---