Illuminate Your Outdoor Spaces With Our Landscape Lighting Near You in Ellisville, MO
Landscape lighting near me in Ellisville, MO. Experience the artful fusion of beauty, practicality, safety, and peace of mind through Poynter Landscape Architecture & Construction's landscape lighting solutions near you in Ellisville, MO. Our expertly curated designs have the power to transform your Ellisville, MO outdoor haven into a sanctum of unparalleled enjoyment. Whether you want to cast a spotlight on your exquisite stonework or to enhance the lush expanse of your vegetation, our landscape lighting plans extend to illuminating every facet of your outdoor expanse, including your deck, patio, or outdoor kitchen. Discover the perfect landscape lighting at your fingertips with our custom plans near you in Ellisville, MO.
With intuitive design from our landscape architectures, along with superior craftsmanship from our builders, we are the company to turn to in Ellisville, MO for landscape lighting. Call Poynter Landscape right away at 636-256-2600 or contact us online.
Download Our Free Outdoor Living Design Guide
Highlighting our exceptional craftsmanship and customer care throughout the Ellisville, MO area, Poynter Landscape has a Five-Star rating on Google and other websites. We have garnered 8 national PLANET Environmental Improvement and Design awards, and we were the Readers' Pick for "Best Landscape Designer" in St. Louis AT HOME Magazine.
You can read our client testimonials, or check out our gallery and project spotlight.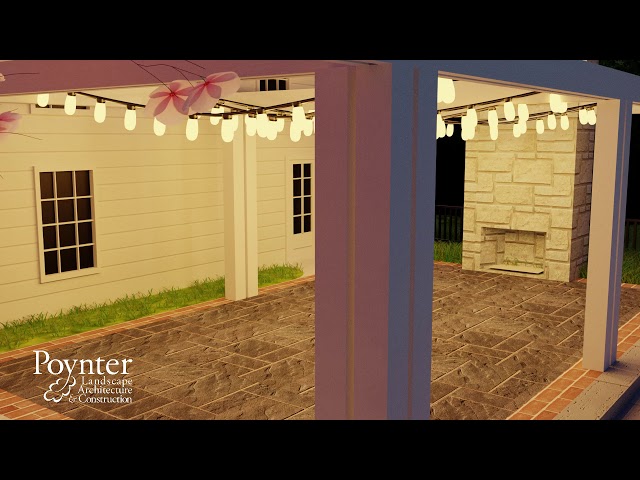 Landscape Lighting Near Me in Ellisville, MO: The Poynter Landscape Advantage
An exceptional landscape lighting design becomes a captivating, head-turning spectacle in every corner of your Ellisville, MO community. Poynter Landscape's architecture experts ensure your landscape lighting transforms your home into an enchanting masterpiece that shines resplendently both during daylight hours and throughout the night, across every season. The remarkable advantage of collaborating with our team lies in the freedom to curate the exact features you want. Eager to accentuate a specific segment of your backyard's allure? Certainly. Seeking to dispel the shadows in a secluded corner of your side yard? Without a doubt, consider it done.
Our exclusive landscape lighting techniques for the Ellisville, MO area include:
Hardscape lighting
Shadowing
In-ground lighting
Grazing
Wall-wash lighting
Silhouette lighting
Underwater lighting
Along with our landscape lighting near me services in Ellisville, MO, Poynter Landscape offers the following:
Landscape Lighting Near Me in Ellisville, MO: What Are the Benefits?
Allow Poyner Landscape to infuse your outdoor space with landscape lighting that radiates a warm welcome for every gathering. Our lighting solutions not only enhance the aesthetics but also ensure the safety of your loved ones, effectively illuminating walkways, social spots, staircases, and beyond. Embrace the advantages of our Ellisville, MO landscape lighting services, including:
It Brings Improved Aesthetics

One of the vital reasons to invest in landscape lighting by Poynter Landscape is to boost your Ellisville, MO property's security. Over one million burglaries occur annually in the U.S. An estimated 75 percent of these crimes are committed at night. Criminals seem to love lurking in the dark corners of your property. Let's change that with a custom landscape lighting plan. And, aside from deterring crime, the lighting keeps you, your family, and your guests safe from twisted ankles or cuts and scrapes by illuminating paths, walkways, stairways, doors, and driveways. We can even design security lighting with motion sensors that only light up when people are in range during specific times, saving you money and surprising those you intend to.

It Boosts Your Ellisville, MO Home's Value

No matter the style of size of your Ellisville, MO home or property, landscape lighting increases the value. After all, potential buyers in Ellisville, MO are more likely to be attracted to a property with a well-lit and visually appealing outdoor space. In fact, the National Association of Home Builders' 2021 edition of What Home Buyers Really Want attests to this trend. According to the book's statistics, nearly 90 percent of prospective buyers ranked landscape lighting as either "essential" or "desirable," underscoring its profound influence on your home's overall value. It's also fascinating to note that, according to Rocket Mortgage insights, two of the most coveted features among home buyers, spanning generations, are exterior lighting and a dedicated laundry room.

It Provides Energy-Efficient Personalization at Your Fingertips

With Poynter Landscape, your landscape lighting is highly customizable – allowing you to adjust the lighting intensity, color temperature, and placement according to your preference and the mood you want to create. With the increased availability of energy-efficient LED lighting options, your landscape lighting system in Ellisville, MO can be environmentally friendly and cost-effective, as LEDs use up to 90 percent less energy and last up to 25 times longer than traditional incandescent bulbs. This is particularly the case with technologies such as timers, motion sensors, and solar-powered fixtures.
When you're ready to discuss your landscape lighting options in Ellisville, MO, call Poynter Landscape right now at 636-256-2600 or reach out to us online.
Landscape Lighting Near Me in Ellisville, MO: Are LEDs a Necessity?
With no filament to break or burn out, LEDs can last 40,000 hours or 20 years of regular use, compared to just two years for halogen bulbs. LEDs are also extremely efficient, using 1 to 11 watts of power versus 20 to 60 watts for halogens, meaning lower installation costs due to smaller transformers and cables. Coupled with lower operating costs and reduced maintenance, LEDs present savings of up to 50 percent over halogen systems in the course of 15 years.
We recommend using LEDs wherever possible throughout your system. Examples of the types of lighting packages we use in landscape lighting projects near you in Ellisville, MO include:
Wash Lights – Throw out soft, diffuse paths perfect for brightening garden walls, privacy fences, and flat facades.
Bullet Lights – These versatile, compact fixtures often have bulbs that project a narrow beam – ideal for precisely lighting garden structures, swimming pools or fountains, or tree trunks.
Up/Downlights – These fixtures, often located high on trunks and branches (downlights), or buried underneath bushes or ferns (uplights), can be targeted at lawns, paths, your home, or a tree's own foliage to create a moonlit effect. A long, cowl-shaped shroud around the bulb eliminates side glare. For downlights, select durable copper and brass housings with LEDs because you don't want to be climbing to replace a bulb. As always, you can call us at 636-256-2600 or contact us for help.
Well Lights – You can get light without even noticing a fixture, as these bulbs hide in a waterproof housing buried in the ground. These are available with either fixed or swiveling bulbs, and are perfect for illuminating the underside of a facade, wall, or staircase.
Garden Lights – Commonly consist of canopies on top of 18- to 24-inch posts that reflect light down into planting beds. Can also be used as pathway illuminators. Unlike other types of lights, their style and finish are on display.
Floodlights – Typically casts a wider beam than a bullet, 40 degrees or more, and is brighter than a wash light. We commonly use these sparingly in our landscape lighting plans near you in Ellisville, MO|We use these sparingly in our Ellisville, MO landscape lighting plans} to illuminate tall trees, outdoor kitchens, or wide house facades.
See some examples of our landscape lighting work in the Ellisville, MO and St. Louis areas in the gallery below:
Connect With the Leader in Landscape Lighting Near Me in Ellisville, MO | Poynter Landscape
With a history spanning over a quarter of a century, Poynter Landscape has been a guiding force for Ellisville, MO homeowners, orchestrating the realization of their landscape lighting visions to craft outdoor havens that transcend imagination. We make a commitment to personalized care and meticulous attention in everything we do. Your Ellisville, MO home and outdoor expanse deserve nothing less than illumination that captivates the entire neighborhood's gaze. It would be our pleasure to get you there.
Give Poynter Landscape a call now to talk about your landscape lighting plans in Ellisville, MO at 636-256-2600 or reach out to us online.
---