Award-Winning Landscaping Design in Huntleigh, MO
Local landscapers in Huntleigh, MO. The company you trust with your landscaping plays a vital part in maintaining the beauty and functionality of your property in Huntleigh, MO. These professionals specialize in conceptualizing, planting, and maintaining gardens, trees, and other outdoor areas, and can help homeowners and business owners create and maintain a variety of landscapes, from small residential gardens to large commercial properties.
Poynter Landscaping has been trusted in the design, implementation, and maintenance of breathtaking landscapes in the Huntleigh, MO area for more than two and a half decades. Speak to a Poynter representative today at 636-256-2600 or tell us about your project through our online contact form.
Benefits Of Working With Professional Local Landscapers in Huntleigh, MO
Whether you need your car fixed or your wisdom teeth pulled, a professional is typically needed to make sure the job is done right. For homeowners, contracting a professional local landscaper in Huntleigh, MO can be an invaluable investment. Their knowledge can help you create an outdoor space that is both great to look at and adds value to your property. From customized designs to routine maintenance, below are some of the main benefits for hiring a local landscaper to help with your property:
Understanding the Local Environment
Huntleigh, MO has demanding clay soils, and and your plants will be subject the area's extreme temperature and climate shifts. One of the key benefits of working with a local landscaper is that they have experience working the soil and planting in Huntleigh, MO. This knowledge can help them select seeds, plantlings and other landscaping materials that will thrive in the local weather conditions. This knowledge will help you avoid more costly replacements or repairs down the road.
Additionally, a local landscaper will know the typical pests, diseases, and other things that could affect the plants and landscape, and take necessary actions to prevent it.
Understanding Local Huntleigh, MO Zoning Laws and Regulations
Local landscapers can also help Huntleigh, MO property owners stay compliant to local zoning laws and regulations, and can advise them on the best way to implement their landscaping ideas while staying within legal guidelines. Poynter's landscapers also aware of Huntleigh, MO HOA guidelines, and can work with your HOA to ensure neither you nor them get any surprises.
Customized Designed With Your Taste in Mind
Another advantage of working with a local landscaper is their ability to come up with personalized, distinctive designs that reflect a homeowner's personal taste. Whether you are looking for a traditional English garden, a modern minimalist landscape, or something in between, a local landscaper will come up with something that works for you. They understand how to balance form with function so that you get the most out of your outdoor space without compromising its beauty or usability.
Increased Property Value
Contracting a local landscaper is one of the best investments you can make while you own your property. Based on research from American Society of Landscape Architects, having your home professionally landscaped can get you 15-20% more when you sell it. Any money you spend on landscaping can get you a 267% return on investment.
Enhanced Aesthetic Appeal
A professional landscaping job in Huntleigh, MO can completely transform the look and feel of your property. Whether you're looking for low-maintenance solutions or ready for a full exterior home makeover, such as building a pond, our local landscapers can do it. They can help give your home that "wow" factor.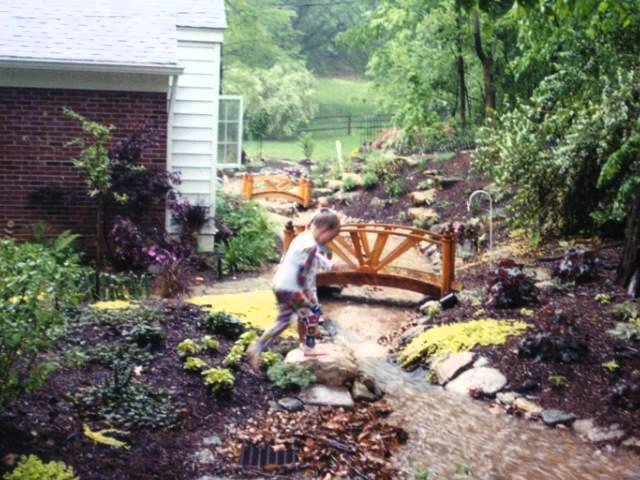 What Services Do Local Huntleigh, MO Landscapers Offer?
Poynter Landscaping is full-service shop for all your landscaping and gardening needs. We can provide you with:
If you'd like to improve the way your yard looks, but you're not ready to take on a huge project, we also love to do small projects and enhancements in the Huntleigh area.
Other services we offer in Huntleigh, MO include:
Call Poynter Landscaping's Local Landscapers in Huntleigh, MO Today
Local landscapers can do a lot for you – increased curb appeal, improved aesthetic appeal, customized designs tailored specifically to you and professionally maintained landscapes – all of which add up to making your home look great 365 days a year. Call Poynter Landscaping today at 636-256-2600 or tell us about your project online to learn more about what our local landscapers in Huntleigh, MO can do for you.
---