Award-Winning Hardscape Design & Construction
Hardscaping near me in Valley Park, MO. If want to craft a whole new outdoor living space out of your yard, Poynter Landscape has you covered. Hardscaping is the use of wood, concrete, natural stone, brick, metal, glass, and other hard materials to create outdoor structures and features such as decks, retaining walls, and outdoor fire places. This cousin of landscaping is becoming increasingly common in St. Louis, as it can enhance how you and your guests enjoy and use your outdoor space. At Poynter Landscape, our team of designers, builders and installers are experienced, experts at their craft, and always go the extra mile to give homeowners the yard of their dreams. For professional hardscaping in Valley Park, MO, call Poynter Landscaping Architecture & Construction today 636-256-2600 or inquire through our website.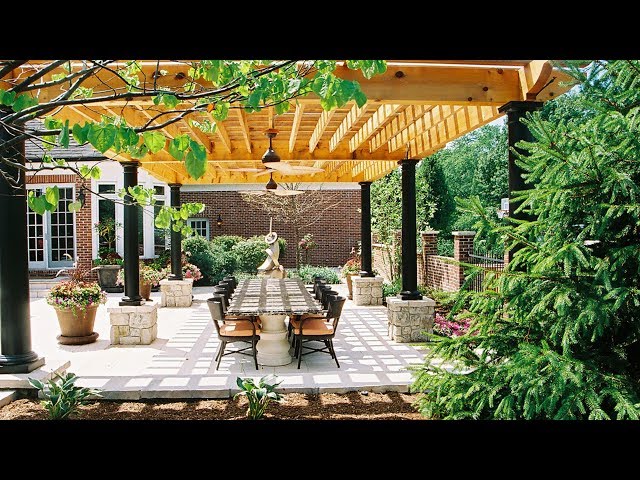 Benefits Of Adding Hardscaping to Your Outdoor Living Space in Valley Park, MO
Hardscape features made with quality materials and craftsmanship can completely change the look and feel of your Valley Park, MO home. Whether the hardscaping your looking for is more practical or decorative in nature, you'll enjoy:
Durability and ease of care — Hardscaping structures don't need the seasonal care and maintenance that organic materials do. This means that they will last about as long as you'd like them to with relatively no hassle or extra cost. Hardscaping allows you to have an impressive-looking outdoor property while taking back your weekends, and can even lower your water bills.
Aesthetics — Hardscaping can add aesthetic value to your property. With customized designs and different materials and colors, it's not hard for us to find amazing hardscaping features that will supplement your home and landscape, making the rest of your neighborhood jealous of your home.
Versatility — Hardscaping features are far from a one-size-fits-all service, they can include small walkways, large outdoor kitchens, and even pool areas. This versatility makes it possible to create a unique and functional outdoor living space with your specific tastes in mind.
Increased curb appeal — 82 percent of potential home buyers are looking for a house with a patio. Professionally designed and built hardscaping features can increase the curb appeal of our home and make it more attractive to potential buyers.
More possibilities for your yard — Hardscaping can add purpose to your yard and create practical areas for activities like cooking, dining, and relaxing.
Functionality — Hardscaping does much more than just open up possibilities for how you use your outdoor spaces in Valley Park, MO. Hardscaping features like drainage systems can help to manage water flow, protecting your property from water damage. Properly placed structures can help manage the sunlight and shade certain plants need.
With experienced design and worksmanship, you can reap the rewards of your hardscaping in Valley Park, MO for years in the future.
Hardscaping We Offer in Valley Park, MO
We specialize in transforming yards in Valley Park, MO into beautiful, useful, and welcoming areas that are great for both relaxing and throwing parties. Whether you're looking for an outdoor fireplace to warm up by on colder nights or a stylish patio to entertain guests, trust in us. With over two decades of experience and a dedication to excellence, our team of designers and craftsman builders will work with you to create the outdoor living space you always wanted.
We are committed to providing the highest quality design and craftsmanship to transform your outdoor living space in Valley Park, MO. With our experience and versatility we're positive we can match our abilities with your needs and tastes. Whether you want to be everyone's favorite host or simply want to make your home look better, we can help make it happen. Contact us today to start your journey toward the outdoor living space you always wanted.
Why Choose Poynter For Your "Hardscaping Near Me" in Valley Park, MO
There's no shortage of hardscaping companies in the Valley Park, MO area you can call, but we believe our knowledge, experience, warmth, and commitment to giving our clients everything they want sets us apart. We turn Valley Park, MO homeowners' yard visions into reality; we dare our clients to "dream big" and then we make it our goal to surpass expectations.
At Poynter Landscape, we offer a wide range of services that go far beyond hardscaping, including design, gardening and landscaping, and garden maintenance. Whether you're looking to spruce up your outdoor space or have a whole new redesign in mind, we've got you covered.
At the design phase, we listen to your needs and tastes, and offer digital 3D and rendering so you can get a feel for how your new outdoor living space in Valley Park, MO will look. When the project begins, we practice transparent communication, so there won't be any doubts or surprises. Our construction management team is also aware that our job site is your home and we make every effort to make the construction experience a positive one.
You can see some of the work we're most proud of in the gallery below:
Other services we offer in Valley Park, MO include:
Hardscaping Near Me in Valley Park, MO | Poynter Landscape
For over two and a half decades, Poynter Landscape has helped Valley Park, MO homeowners turn their outdoor living space dreams into reality. We know that you want to enjoy the benefits of your hardscaping for years to come, and strive to treat every homeowner and project with the personalized care they deserve. To discuss your hardscaping needs further, call us today at 636-256-2600 or contact us online.
---