Become the Envy of Your Arnold, MO Neighbors With a Rejuvenated Sanctuary
Pool remodeling in Arnold, MO. Do you have an outdated or damaged pool in the Arnold, MO area that needs a complete makeover? It used to be the go-to sanctuary for the whole neighborhood, but now it has cracked lining, or maybe broken tiles, or possibly even stains from algae growth. Whatever the reason, Poynter Landscape Architecture & Construction is the answer.
You – and your Arnold, MO neighbors, for that matter – deserve a rejuvenated relaxation spot. Give us a call right away at 636-256-2600 or reach out to us online. Our crew specializes in remodeling, converting, or replacing outdated and damaged pools, pool structures, and pool equipment. These projects call for an experienced and knowledgeable team of craftsmen builders and landscape architects to provide that much needed pool remodeling in Arnold, MO, all the while ensuring that your current problems aren't carried over into your remodeled pool. Additionally, we can provide value and utility to your outdoor area by installing a pergola for shade, an outdoor kitchen, a pool house, spa, and other incredible options to make your pool area truly unique in Arnold, MO.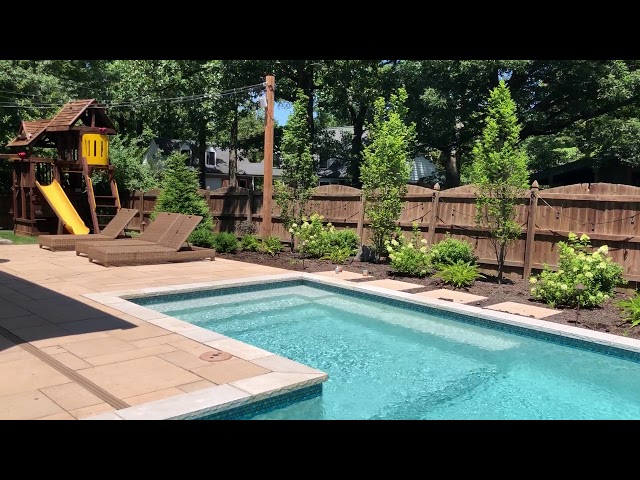 Download Our Free Swimming Pool Design Guide
Custom Arnold, MO Swimming Pool Designs and Remodels
Prior to beginning any pool remodeling project in Arnold, MO, we first create an intricate design plan that incorporates your desired details and amenities. Our landscape architects also suggest the type of materials to be used for tiles and pavings. Our concentration is not only centered on the safety and durability of your swimming pool but also on its aesthetic appeal and functionality. After all, we can't forget about your Arnold, MO neighbors. Once the Poynter pros are finished with the remodel, you will definitely enjoy the new look and feel of your Arnold, MO pool.
Call us now at 636-256-2600 or contact us online. Homeowners in Arnold, MO pick us due to our ability to create custom solutions for designs and remodels. While no two pools in Arnold, MO are the same, the majority of our remodels typically involve:
Tile installation
Pool deck installation
Plaster/Lining reapplication
Installation of water features
Underwater lighting
Installation of pool accessories
See some examples of our work on water-based oases in the Arnold, MO area:
Poynter Landscape has a Five-Star rating on Google and other websites for our unmatched craftsmanship and customer care. We are grateful to be named the Readers' Pick for "Best Landscape Designer" in St. Louis AT HOME Magazine and we won 8 national PLANET Environmental Improvement and Design awards.
You can browse our client testimonials here, or check out our gallery and project spotlight.
Along with our pool remodeling services in Arnold, MO, Poynter Landscape provides the following for our Arnold, MO neighbors:
Benefits of Arnold, MO Pool Remodeling
The primary reason many residents near Arnold, MO remodel their pool is to restore the pleasant, welcoming appeal it once had. Other benefits in Arnold, MO include:
Better Energy Efficiency

Aging pools are notoriously inefficient, with outdated equipment and design features that consume large amounts of energy. This results in high monthly utility bills in Arnold, MO, along with a substantial impact on the environment. When we install upgraded filters and modern pumps for your remodeled swimming pool in Arnold, MO, along with added features like an automatic shut-off valve and pool cover, your energy costs and impact on their environment will significantly decrease.

A New Look/New Features

Perhaps you are looking to add a hot tub or spa, add new coping, add a new pool deck, or update your pool with one of the freshest trends. No matter what you – and your Arnold, MO neighbors – are looking for, Poynter provides it. Give us a call right away at 636-256-2600 or contact us online.

Increase the Value of Your Arnold, MO Home

A functional swimming pool not only increases your social life in the Arnold, MO area, but also your home's value. While most people will pass over your house if you have an old, outdated pool, a remodeled one can boost your property value by 7 percent. By making your Arnold, MO swimming pool more attractive, functional, and safe with a Poynter Landscape remodel, you can elevate its appeal to potential buyers now and in the future.

Enhanced Safety

When it comes to swimming pool ownership in Arnold, MO, safety should the top priority. You do not want to see your neighbors or family members, particularly children, injured in or around your pool. Drowning is the leading cause of death for children under 5, and the second leading cause of death for those under 14, according to the Centers for Disease Control and Prevention. During the Poynter pool remodeling process, we can incorporate safety features like installing a pool fence, adding an anti-slip surface, upgrading the pool cover, and enhancing the lighting around the pool. According to the U.S. Consumer Product Safety Commission, an isolation fence surrounding a pool reduces a child's risk of drowning by 83 percent.

Extended Lifespan

The Poynter Landscape pool remodeling procedure not only improves the functionality and appearance of your Arnold, MO swimming pool but also extends its lifespan. We ensure your swimming pool remains in impeccable condition for years to come by addressing structural problems, repairing cracks, replacing coping, and upgrading equipment. There are a few telltale signs that it could be time to update and remodel in Arnold, MO, including:

The pool is aging or no longer meets your needs
A scratchy pool surface from a bad install or from calcium buildup
It is not energy efficient or is costing you too much in monthly utility bills
The pool is showing signs of wear and tear – cracks, leaks, etc.
You want to add new features or amenities to the pool
You are planning on listing your Arnold, MO home for sale and want to boost its value

Reach Out to the Leader in Arnold, MO Pool Remodeling | Poynter Landscape

Poynter Landscape is the solution for your pool remodeling project in Arnold, MO, no matter what kind of boost you are looking for. Our skilled staff jumps at the chance to transform your outdated pool into the eye-catching and enjoyable space for relaxation and recreation it was in the past. Don't miss out. You will be the target of your Arnold, MO neighbors envy in no time.

Call Poynter Landscape & Construction right now at 636-256-2600 or reach out to us online.

---