Transform Your Fenton, MO Outdoor Living Space
Patio installation in Fenton, MO. As a Fenton, MO-area homeowner, you realize the importance of a dreamlike outdoor oasis where you can escape from the hustle and bustle of daily life, entertain, and enjoy the natural surroundings. A meticulously crafted patio is the ultimate solution to transform your outdoor living space and build a practical and welcoming area for unforgettable get-togethers with friends and family. If you are pondering patio installation in the Fenton, MO area, look no further than Poynter Landscape Architecture & Construction.
Call us right away at 636-256-2600 or contact us online. Our knowledgeable team of landscape architects and craftsmen builders has the hands-on experience to create that multifunctional serene outdoor retreat near Fenton, MO.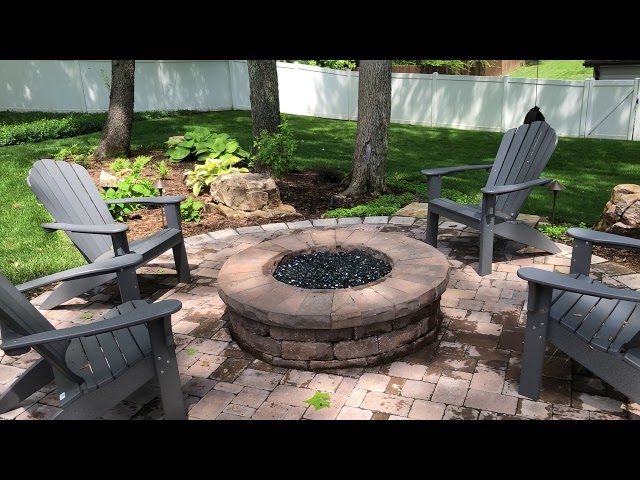 Download Our Free Outdoor Living Design Guide
Poynter Landscape has a Five-Star rating on Google and other websites for our unrivaled craftsmanship and customer care. We are grateful to be named the Readers' Pick for "Best Landscape Designer" in St. Louis AT HOME Magazine and we won 8 national PLANET Environmental Improvement and Design awards.
You can browse our client testimonials here, or check out our gallery and project spotlight.
Why Should I Select Poynter Landscape For Patio Installation in Fenton, MO?
Exceptional patios and landscapes don't just happen randomly in Fenton, MO – they are masterfully designed and crafted by the Poynter Landscape renowned team of landscape architects. Using detailed plans, featuring blueline drawings and 3D imaging, our dedicated team can work with you to get exactly what you are looking for. That is exactly what we want as your partner – creating and installing beautiful, functional, and sustainable patios for you and your family near Fenton, MO.
Our experienced patio installers in Fenton, MO have a wide selection of products that they can choose from to aid in designing and creating your ideal patio. Whether you want an all stone patio, a concrete patio, or a combination of multiple materials to achieve that perfect look, our landscape architects and patio installation experts can guide you. Below are several of the most commonly requested materials that we utilize for our patio installations in the Fenton, MO area:
Clay Brick
Cut Stone
Tile
Patio Pavers
Sand
Pavement
Gravel
Concrete
Flagstone
Stones and tiles aren't the only features that make our patio installations glisten, we also use several other types of products to ensure your patio stands out in Fenton, MO. We use landscaping lighting options to guarantee that your patio is adequately lit for any event. Below are several of the most sought-after lighting options by our customers near Fenton, MO:
Torches
Candles
String Lights
Lanterns
Solar Lights
Lighting Sconces
Outdoor Flood Lights
Outdoor Pendant Lighting
Outdoor Table Lamps
Orbs and Spheres
Hidden LEDs
Pot and Planter Lighting
Uplighting
Along with our outdoor patio installation services in Fenton, MO, Poynter Landscape provides the following for our Fenton, MO customers:
What Are the Advantages of Professional Patio Installation in the Fenton, MO Area?
The Poynter Landscape patio installation service offers a range of benefits that greatly improve your outdoor living experience. Here are some pivotal advantages in Fenton, MO:
Broaden Your Living Space

By having one of our knowledgeable patio installation specialists create and install an outdoor patio, you effectively add a new area for relaxation, dining, and recreation. Whether you look forward to a cozy nook for morning coffee or a spacious entertainment zone for hosting open-air feasts, a well-designed patio augments your indoor living experience into the great outdoors in Fenton, MO.

Enhance Curb Appeal

A meticulously planned patio by our architects can substantially bolster the curb appeal of your Fenton, MO home. It serves as an attractive centerpiece that catches the attention of potential buyers and adds visual interest to your property. With a diverse set of materials, colors, and patterns available, you can customize your patio to complement the architectural style of your home and create a cohesive and aesthetically pleasing outdoor environment in Fenton, MO. Let Poynter Landscape design and install the patio of your dreams. Call us today at 636-256-2600 or reach out to us online.

Increase Your Property Value in Fenton, MO

Investing in patio installation by Poynter Landscape is not only a wise decision for your lifestyle in Fenton, MO, but also for your real estate value. Potential buyers and investors are frequently attracted to properties in Fenton, MO with inviting outdoor spaces that provide additional living and socializing spaces. In fact, according to a recent national survey done by HomeLight, leading real estate agents disclosed that outdoor space was the third-most highly valued feature for homebuyers. It's estimated that well-designed patios not only add 8-10 % home value, they earn more than 80 % ROI (return on investment). Through a superbly constructed patio, you can separate your property from the competitive Fenton, MO real estate market and attract more potential buyers.

Low Maintenance and Durability

Our staff of landscape architects and patio installation specialists work with modern materials that are crafted to survive the toughest climatic changes and need low upkeep in Fenton, MO. From durable concrete and brick pavers to weather-resistant natural stone, a professional patio installation by Poynter Landscape is built for durability. These materials feature convenient cleaning, stain-proof properties, and the capacity to tolerate heavy foot traffic – making them ideally suited for open-air use. Through proper care, occasional sealing, and slight care conducted by our professional team, your patio is sure to preserve its beauty and functionality in Fenton, MO for countless years to come.

Versatility and Functionality in Fenton, MO

Patio installation by Poynter Landscape provides endless possibilities for designing a versatile and functional outdoor space. Whether you prefer a simple, minimalist design or a more intricate setup with a custom seating space, a fire pit, and an outdoor kitchen, the choices are limitless. You can customize your patio to suit your particular requirements – whether it's a tranquil getaway for you and your loved ones or an energetic space for entertaining the entire neighborhood.
Give Poynter Landscape a call now to get started on your patio installation in Fenton, MO at 636-256-2600 or reach out to online.
You can see some of our patio installation work we're most proud of in the gallery below:
Reach Out to the Leader in Patio Installation in Fenton, MO | Poynter Landscape
Investing in skilled patio installation by Poynter Landscape provides a wonderful opportunity to upgrade your outdoor living experience by creating a stunning area for enjoyment and unwinding, while adding value to your property. Don't miss out on the opportunity to enjoy the beauty of nature along with your family and friends, and the convenience of a well-designed and professionally installed patio in Fenton, MO right in your own backyard.
To revamp your Fenton, MO outdoor living space in ways you never imagined, and to kickstart your patio installation, give Poynter Landscape & Construction a call now at 636-256-2600 or reach out to us online.
---