Skip to content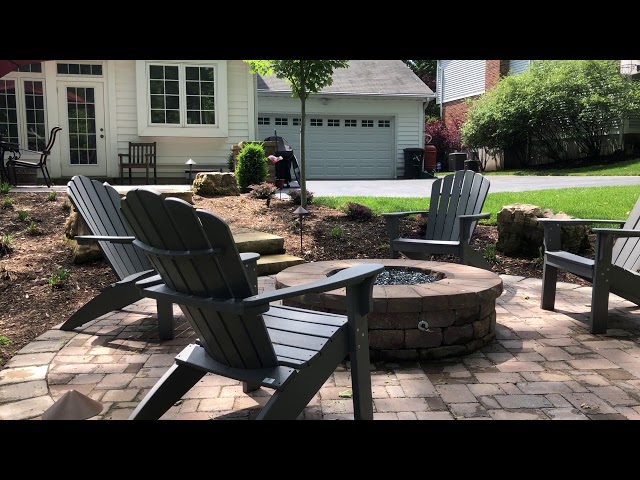 A BACKYARD TRANSFORMATION
As the Summer Solstice dawns and we relax into the season of sunshine, we reflect on a recent backyard renovation that invites outdoor activity.
The Hewett backyard renovation project kicked off on a bitterly cold, snowy week in early February.
"We had 4 people come out to view the site and offer a proposal. They all came back with the same plan – replacing the flagstone with pavers. When Bob from Poynter brought us his drawings, it was night and day from the previous contractors."
The goal of the project was to create a beautiful outdoor living area while replacing an existing flagstone patio that had uneven gaps, making it unsafe for the clients' elderly parents and causing furniture to tip over. Bob's plan transformed the space into a three-season hideaway with a fireplace, an expanded and cascading patio and graceful landscaping between the trees.
First up was tearing out the existing flagstone patio, which during several rainy days, revealed a drainage issue that we were able to troubleshoot. We discovered that pooling water on the driveway was not being drained properly so we moved an existing drain closer to the patio to capture more runoff and keep it off of the patio. The problem was solved before the new patio was completed.
The old (and valuable) flagstone pavers were reused as a walkway from the shed to the A/C units, upgrading the previous white rock pathway. Heavy boulders that were removed from the patio excavation were reused as focal points throughout the landscaping and by the fireplace.
There were up-lights on the two existing trees which were matched by new up-lighting on each of four new trees. Lighting was also added to the upper patio, the end columns of the seating wall, the pathway by the fireplace and along the steps leading from the driveway to the patio making the backyard safe and usable well past sunset.
The project finished in the summer in time for outdoor activities before winter returned. The entire Hewett family celebrated Thanksgiving with turkey deep frying on the driveway and children by the fireplace all day. This spring they have relished their new outdoor area and have spent many days outside, just listening to the birds and enjoying the quiet.
"We loved working with Poynter so much, we've hired them to come back in the spring for a few new plantings, for regular bed maintenance and even recommended them to our neighbor down the street!"
PRUNING IS KEY AFTER A WET SPRING
With all of the rain we have had this spring, all of your plants are going to far surpass their typical growth targets. Pruning is going to be important this year and important to take care of in early summer when spring flowering is over and new growth is well underway.
SMART WATERING
As we recover from the deluge and temperatures begin to climb, you'll need to establish a regular watering schedule to ensure your plants thrive.
Remember, however, that while you do need to water more, you don't need to water more often. Many think plants need to be watered every day during the hot summer months. However, your plants need a good break in between watering to allow the roots to absorb more oxygen. A good, long soaking -- 2 days per week on beds and 3 days per week for your lawn is ideal in the heat of summer.
An easy way to globally increase or decrease watering with your irrigation system is to use the seasonal adjustment feature on your clock. This allows you to adjust all zones at once. Currently it's still rather rainy, so adjusting to 50% for all zones will water at 50% of the all the programmed times. This is helpful during excessive heat or wet weather patterns.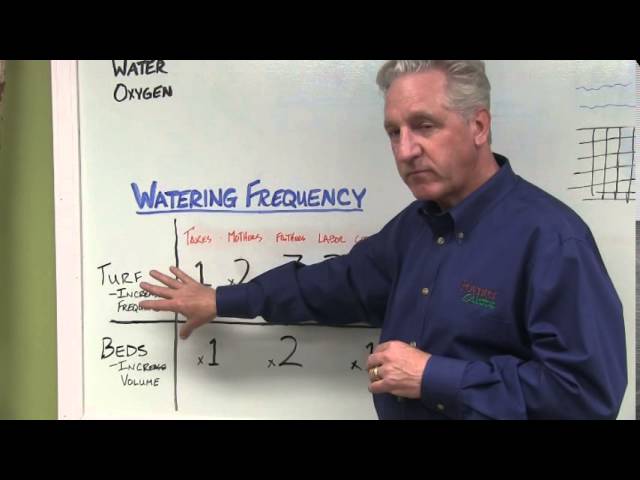 MOSQUITO SEASON IS HERE
Along with the rain comes those annoying mosquitoes. Follow these steps to reduce their numbers as much as possible, naturally.
ELIMINATE STANDING WATER
This should be your number one strategy. Even a tiny soda cap filled with water can breed mosquitoes. Common areas to look for water include flower pot saucers, open storage containers, uneven walkways or pavement, tire swings, grill covers, garbage can lids and kiddie pools. In addition, any water feature in your garden or yard should have a pump or recirculating system or changed at least twice a week (mosquitoes take eight days to breed).
FIND HIDDEN WATER SOURCES
Other less considered areas that can also collect water are tarps, wound hoses, furniture crevices, uncovered fence posts and bromeliad plants.
SPRAY YOUR YARD
Invest in a service to spray your yard every three weeks in the summer months for a virtually mosquito-free (and ticks and chiggers) outdoor living environment.
CEILING FANS
Mosquitoes might pack an itchy wollap, but they are weak on flying. Air from a ceiling fan can be too much for them. We recommend them on all of our pergola and pavilions.
INSTALL A BAT HOUSE
It might sound creepy to invite bats into your backyard, but a bat can eat up to 1000 mosquitoes in an hour!