Move the Party Outside With Your
New St. Charles County, MO Outdoor Kitchen
Outdoor kitchens in St. Charles County, MO. You know how guests always seem to find a way to gather in your kitchen? After all, it is the most important room in your St. Charles County, MO home. But imagine giving those gatherers a reason to convene somewhere else – like an outdoor kitchen, where the space in your backyard makes events far less crowded. The experienced professionals at Poynter Landscape Architecture & Construction can design a seamless transition between your indoor and outdoor areas, creating a functional gathering space that removes the heat from indoor cooking while more than doubling your space for game-day gatherings, birthday parties, neighborhood shindigs, and whatever else brings family and friends to your St. Charles County, MO home.
When you are ready to delve into the "wow factors" of outdoor kitchens in St. Charles County, MO, give Poynter Landscape a call at 636-256-2600 or reach out to online. Allow us to transform your vision of liberating visitors from the confines of your clean, not to mention boiling hot, kitchen into a tangible reality of unrivaled outdoor functionality.
Download Our Free Outdoor Living Design Guide
Poynter Landscape has a Five-Star rating on Google and other websites for our exceptional craftsmanship and customer care. We've won 8 national PLANET Environmental Improvement and Design awards, and we were the Readers' Pick for "Best Landscape Designer" in St. Louis AT HOME Magazine.
You can read our St. Charles County, MO client testimonials here, or visit our gallery and project spotlight.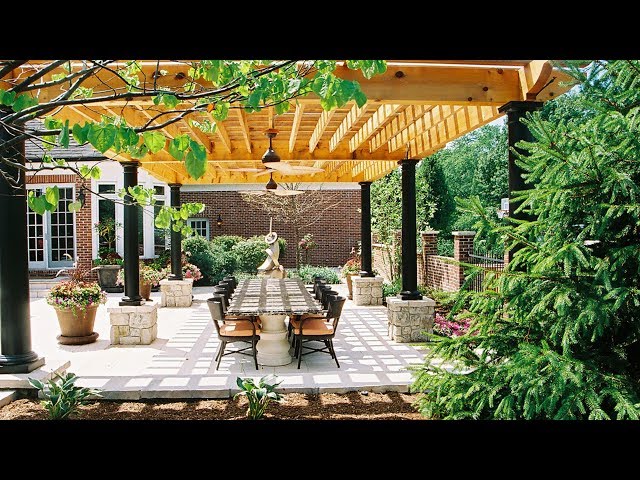 Outdoor Kitchens in St. Charles County, MO: Go Beyond Simple Grilling
The art of grilling, also referred to as barbecuing by tourists or nonnatives, is a rite of passage in St. Charles County, MO, no matter the season. Why not break free from the conventionalities of a typical gas or charcoal grill and venture into the realm of a complete and functional outdoor kitchen? Here's the thing – lugging food and supplies from the kitchen can quickly become a major inconvenience, especially when you realize halfway through grilling that you're missing a critical ingredient you need right this instant. Culinary masterpieces don't come with pause buttons. If the idea of cooking outdoors with all the necessary tools at your fingertips is your ultimate definition of domestic bliss, then you absolutely need a personalized outdoor kitchen designed by the experts at Poynter Landscape. This outdoor oasis will cater to your individual culinary needs, ensuring that your cooking experience is nothing short of extraordinary.
On a splendid St. Charles County, MO evening, why stand over a hot stove indoors preparing dinner if you can do your cooking out in the backyard? You need an outdoor kitchen designed to include all the conveniences you need, such as:
A wide variety of outdoor cooking and food warming appliances
Several types of cooking surfaces
Cabinet storage for grilling tools, dining utensils, serving plates, glasses, etc.
Sinks
Refrigeration
An ice machine
A dishwasher
An abundance of countertop space
Homeowners in St. Charles County, MO choose us due to our proficiency in crafting tailor-made solutions for enhancing outdoor living spaces. The following are examples of our hardscape and structure projects that can encompass your brand-new outdoor kitchen in St. Charles County, MO:
Along with our outdoor kitchens in St. Charles County, MO, Poynter Landscape offers the following to our St. Charles County, MO neighbors:
Outdoor Kitchens in St. Charles County, MO: What Are the Benefits?
By now, you've likely figured that outdoor kitchens are far from being one-size-fits-all endeavors. You need the pros at Poynter Landscape to design and build your project to fit your precise needs. Some of the advantages of St. Charles County, MO outdoor kitchens are:
Savor the Flavor of Outdoor Cooking: Cooking outdoors is a unique and enjoyable experience. Whether you are grilling, smoking, or even baking in your outdoor kitchen, you can savor the fresh air, immerse yourself in the scenery, and infuse your dishes with the distinctive flavors of cooking over an open flame. Our team of landscape architects is ready to guide you. Give us a call right away at 636-256-2600 or reach out to us online.
Convenience and Functionality: With an outdoor kitchen, convenience and functionality seamlessly come together. By consolidating all the necessary cooking elements, storage solutions, and prep areas in a purpose-built outdoor space, you can bid farewell to the constant back-and-forth between indoor and outdoor areas while preparing meals. No more juggling ingredients and utensils or the hassle of opening and closing doors as you move around. Many of our valued customers in St. Charles County, MO attest to the remarkable advantages of their newly installed outdoor kitchens, with streamlined efficiency reigning.
Personalization and Design: St. Charles County, MO outdoor kitchens from Poynter Landscape offer a wide range of design possibilities, allowing you to customize the space to reflect your personal preferences and panache. Whether you envision a sleek and modern layout or a rustic and charming ambiance, we have the knowledge and skill to bring your vision to life. From choosing the layout and materials to incorporating features such as a bar counter, comfortable seating area, a dedicated smoker, or a wood-fired pizza oven, we can design and create an outdoor kitchen that perfectly suits your needs.
Boost Your Hosting Game: Outdoor kitchens unlock a realm of possibilities for hosting unforgettable gatherings and parties. No matter if you're having a barbecue bash, a poolside party, or a casual dinner under the stars, an outdoor kitchen provides an ideal centerpiece as a versatile and enjoyable environment for entertaining guests on your St. Charles County, MO property. It quickly becomes the heart of the festivities.
Maintain Cool Comfort Indoors: Cooking indoors during hot summer months in St. Charles County, MO can heat up your home, causing discomfort and increased air conditioning costs. Having an outdoor kitchen designed and built by Poynter Landscape allows you to keep the heat outside, keeping your indoor living spaces from becoming uncomfortably warm.
Embrace Energy Efficiency: Beyond the advantage of maintaining cool indoor spaces, an outdoor kitchen presents an opportunity to embrace energy efficiency. By using your outdoor kitchen for cooking, you can significantly reduce energy consumption typically associated with indoor appliances like stoves and ovens. With a professionally designed outdoor kitchen by Poynter Landscape, you will not only enjoy the benefits of lower energy bills but also contribute to a more sustainable and eco-friendly lifestyle.
Promote a Healthier Culinary Experience: Having an outdoor kitchen encourages healthier cooking and dining habits. By embracing the art of grilling, broiling, or roasting meats and preparing meals with fresh, wholesome ingredients, outdoor cooking naturally encourages healthier eating habits. WIth a reduced reliance on excessive oil and a focus on lean meats, vegetables, and fruits, your outdoor kitchen becomes a gateway to nourishing and well-balanced meals Allow Poynter Landscape to assist you in creating an outdoor kitchen that promotes healthy habits and tantalizes your taste buds with flavorful creations.
Boost Your Property Value: Adding an outdoor kitchen can significantly enhance the value of your property, generating as much as a 100-200 percent ROI (return on your investment). It is an attractive feature that appeals to potential buyers, making your home stand out in the St. Charles County, MO real estate market Discover the transformative power of an outdoor kitchen designed by Poynter Landscape, elevating your property's allure and placing it above the rest.
Reconnect with the Serenity of Nature: Immerse yourself in the harmonious embrace of nature by spending time in your outdoor kitchen meticulously crafted by Poynter Landscape. Delight in the experience of enjoying meals amidst your gorgeous landscapes, enveloped by a fresh breeze and a warm embrace of natural sunlight. This blissfulness has the power to alleviate stress and foster a profound sense of relaxation and well-being.
Call Poynter Landscape today at 636-256-2600 or connect with us online.
Explore a collection of our work on outdoor kitchen projects near St. Charles County, MO in the gallery below:
Connect With the Leader in St. Charles County, MO Outdoor Kitchens | Poynter Landscape
For more than 25 years, Poynter Landscape has helped property owners in St. Charles County, MO create outdoor kitchens that draw the envy of the entire neighborhood. We realize that you want to relish the advantages of your outdoor kitchen for years to come, so we design and build with that in mind. We treat every customer and endeavor with the personalized care and attention they deserve. You should expect nothing less from the St. Charles County, MO outdoor kitchen leader.
Give us a call right away to discuss your St. Charles County, MO outdoor kitchen plans at 636-256-2600 or contact us online.
---